I was thrilled to have been able to open the clinic yesterday and see real patients! If only the weeks and months ahead were a little more certain as what we don't know is how much concern there is surrounding face to face appointments. We will have to wait and see! But even so it was just nice to feel some normality creeping back in.
Anyway, I think it is always best to focus on the positives in any slightly naf situation so here goes……
1) FAMILY- I have been meaning to spend quality time with my daughter (Amelie) for a while, and just when we were about to head off on holiday for a couple of weeks to do just that, we realised that that holiday was about to get a lot longer! Quite honestly I don't even know how long now (let's call it 10+ weeks). Without this "holiday" I would not have got to see her walk for the first time, I would not have got to hear her say "Dadda" (or something that resembles this- possibly just baby for "not you again") for the first time and I would not have got to see her grow up and up like a skinny beanpole (and yes I'm sure my genes play some part in this 😉)
2) GRANDPARENTS- I have called my grandparents more in the past 10+ weeks than in the past 2 years and this is something I should have done more in the past but work/life got in the way. (apologies no picture of my grandparents, not sure they would approve of being sent out to everyone 😊)
3) HANDS- I am 31 (I know I don't look a day over 25!?) and have been a very hands on physio for 10 years and honestly my hands were hurting, let's call it an occupational hazard. Now, I wish I could say they are 100% but I have spent 10 weeks knocking down our shed and rebuilding it and making a lovely new decking area (my wife's idea entirely but that's not to say spending hours out in the garden went down all that well!). SO hands are better in one way but covered in decking oil and cuts.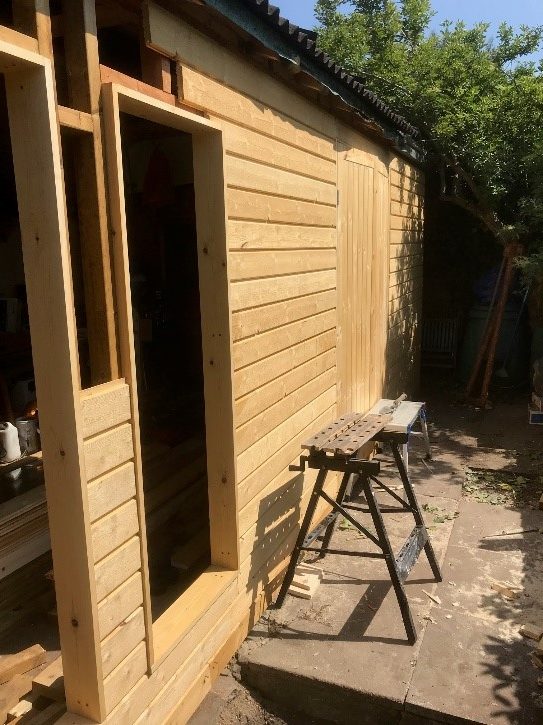 4) FOCUS- No I haven't bought a new car! Focusing on what is important to me…… Work/life balance. Over the 10 weeks (despite not knowing how many people will come and see us in the clinic when we returned) we advertised for another Physio/Osteopath in an attempt to take a bit of pressure off of myself clinically. I had a really good chat with an Osteopath today so fingers crossed!
5) CLEAN AND SPARKLING- The clinic has never looked cleaner! I have been on my hands and knees getting the clinic back up and running and as shiny as a new pin.
6) TAN- I look like I've been to Majorca for 2 weeks
(no pic- you will have to look forward to this when you see me in person or over skype 😊)
I think that's about it for me! 😊 it hasn't been plain sailing, but I think focussing on the good things isn't a bad thing.
Pilates, Sports Massage, Acupuncture and Nutritional therapy all back in July (all being well!)
In order to help us to get started again we would be extremely grateful if you would be kind enough to write us a review (either on facebook or on google – Just copy and paste this link and it will get you there  goo.gl/wXDGdE)
Keep safe and well and see you all in the clinic whenever you need us.
Thanks so much for reading my rather long emails.
Luke and Reform team